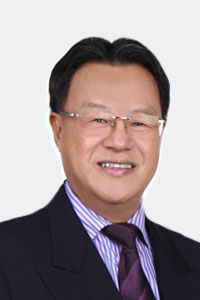 Ricky Sim
Ricky has devoted 18 years of his career to the Singapore Government Civil Service since 1977, including 6 years in Hong Kong and 3 years in Bangkok as a diplomat. In 1994, he entered the private sector, joining Suntec Investment Group of Companies (SIPL) as Chief Operating Officer. Ricky was concurrently the Managing Director of Chesterton Suntec International (Property Consultancy Business) in addition to his other executive duties in SIPL subsidiary companies.
After retiring from the private sector in early 2013, Ricky has since found his own Advisory and Consulting Company, and is currently the Executive Director of RS Advisory & Consultancy Pte Ltd. He also started a Real Estate Consultancy firm named "SunChest Property Consultants Pte Ltd" and is concurrently its Managing Director. This is to leverage
9 on his vast network of contacts he has built over the past 36 years covering both public and private sectors in Singapore and in the Region.
Ricky also sits on the Board as an Independent Director of 3 Listed Companies in the Singapore Stock Exchange.
Aside from his professional capacities, Ricky has volunteered actively in the past to serve in a wide range of CSR Organisations namely, as Secretary of the Singapore Scout Association, Secretary/Treasurer of Singapore Institute of International Affairs as well as Vice-Chairman of the Singapore Kindness Movement.
Ricky also served as a Board Member of the Social Innovation Park as well as with (SIFE) Students in Free Enterprise in Singapore between 2007 and 2010. He was appointed as one of the 60 International Judges at the SIFE World Cup Tournament in Paris in 2006 and in New York in 2007.