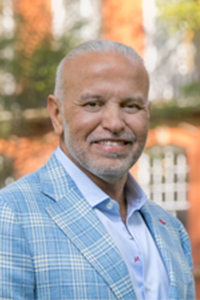 Salah Mussa
Salah has used his formative years living and studying in London to grow a successful business portfolio spanning finance, commercial, and residential real estate over the last four decades.
Salah interest in philanthropic causes led to the founding of the Chestertons Foundation in 2019. The Foundation raises funds for 15 mostly London-based charities, including St Mungo's and The Passage, both of which seek an end to homelessness. Funds raised from events organised by Chestertons Foundation will be dedicated to people's long-term recovery by developing their employability.
As head of a family office, Salah has managed and exited various private real estate funds valued in excess of £300m. He is a founding board member and investor in Arqaam Capital, established in 2007 a specialist, financial services company, bringing regional and international product offering to emerging markets. Salah was a board member for 7 years and remains as an investor.
His extensive knowledge of property in prime locations globally and in central London, from apartments in Mayfair to hotels in Knightsbridge and Chelsea, and a diverse career which includes investment, operations, and strategic development, is testament to his commitment to a holistic understanding of London-based real estate.
Salah is best known for purchasing Chestertons, a prime central London estate agency with a 220-year history. As Chairman, Salah had the vision to build on the heritage and reputation of these two organisations. Over the past sixteen years, Chestertons has expanded internationally, currently in 12 countries with over 70 offices, and will continue to expand the franchise globally.