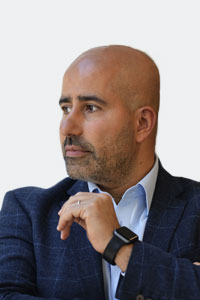 Israa Al-Bayaa
Israa has an extensive track record in finance in London starting as a chartered accountant with Arthur Andersen; initially in assurance & business advisory followed by a move into the due diligence & transaction support team.
He then moved into investment banking M&A where Israa, together with two senior managing directors from DLJ, launched SG Barr Devlin in Europe. In this role, Israa was responsible for originating and executing M&A, equity primary, privatisations, debt capital market and general corporate finance transactions in the power & utilities sector in Europe.
This was followed by taking the position of CEO at CIC International Limited (now Arqaam Capital) during which he lead the 2005 acquisition of Chestertons out of insolvency.
Since 2007, Israa transitioned into the hedge fund industry where he is a partner and portfolio manager at Point72, a pre-eminent global hedge fund.
Israa holds BSc in Mathematics from Imperial College, London, an MBA from Manchester Business School, and is a UK Chartered accountant.