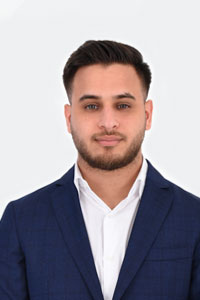 Mohamed Mussa
With Mohamed being Salah's only son It was seen fit ensure that from a young age he was groomed to help Mercantile expand while also being well rounded and articulate.
From the age of 18 Mohamed has overlooked his family's portfolio and was observant throughout the processes mercantile has undergone. At the beginning of this year Mohamed has been an active board member at Chestertons. His input has been influential for the future plans to grow the business as well as providing an insight of the company through the prospective of a lettings negotiator which is a role he has currently taken on and a department accounting more than half of the company's revenue.
As Mohamed has spent time with several departments at Chesterton's his knowledge of the company is substantial and his perspective is holistic.
Mohamed has also gained significant experience in property development overshadowing his dad in many instances as well as working for Ballymore at a young age which gave him an insight of the management of major property development projects particularly in the canary wharf area. Some examples include Wardian and Embassy gardens.
Mohamed has also provided his father with assistance with regards to certain decisions made with his development project in Chesterfield hill, Mayfair. Mohamed has also worked for airline providing company (Menzies Aviation) where he spent time in many areas of the business and walked away with an understanding of how a major company of that size is run. Mohamed is paving the way to become integral in the growth of Mercantile where he hopes to be a representation of the future development and next generation of the Group which is both meaningful and sentimental to him. Graduating from the university of Essex in 2020 with a degree in international business and entrepreneurship Mohamed is driven and motivated to be an important player with all Mercantile affairs and has actively shown his conviction towards growth and development.
Mohamed looks forward to taking part in the Chestertons foundation and being part of the fund raising.