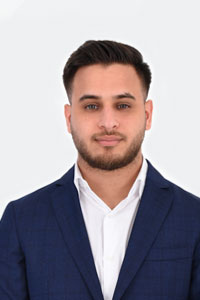 Mohamed Mussa
As Salah's only son, Mohamed has from an early age been exposed not only to the family's portfolio but also the business process for Mercantile Group and Chestertons.
It has been impressed upon Mohamed the importance of business acumen and being a well-rounded and articulate young man.
In 2021 Mohamed was offered the position of Non-Executive Board Member for Chestertons and his input into this core group of highly influential businessmen has played a significant part in plans for the growth of the business. Mohamed has made it a point to be involved within various departments at Chesterton's thus his knowledge of the company is substantial, and his perspective is holistic. Mohamed's current role has allowed him to create synergies in various business affairs.
Mohamed has also gained significant experience in property development by shadowing his father, along with working for Ballymore from a young age which gave him a huge insight to the management of major property development projects particularly in the Canary Wharf area.
Mohamed has had significant influence in the decisions process for one of the ultra high net worth projects in Mayfair Prime Central London – Chesterfield Hill.
Mohamed has also worked for an airline providing company (Menzies Aviation) where he spent time in various departments gaining an insight into how large organisations are run.
Mohamed is paving the way to become integral in the growth of Mercantile where he hopes to represent the next generation of the Group and be at the fore front of its future development, which is both meaningful and sentimental to him.
The business development that Mohamed has bought to the organisation has had a significant impact in key acquisitions of a number of companies including that of Morgan Randal amongst many others. Internationally Mohamed's influence has been relevant to the launch of serval offices in Asia as well as the expansion of Chestertons MENA.
Graduating from the University of Essex in 2020 with a degree in International Business and Entrepreneurship, Mohamed is driven and motivated to be an important player with all Mercantile affairs and has actively shown his conviction towards growth and development bringing more innovation to a well-established organisation.
Mohamed looks forward to taking part in the Chestertons Foundation and being part of the fund raising.