Chestertons Signs Franchise Agreement with PAC in South Korea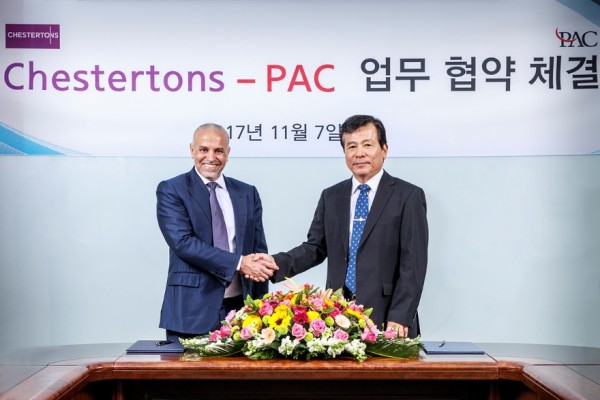 January 1, 2017
Chestertons has signed a franchise agreement to partner with PAC, a South Korean real estate giant
PAC operates 11 offices in prominent locations like Seoul, Busan, and Gyeongbuk among others
PAC currently employs 160 employees ranging from valuation specialists, estate agents, and property managers
The agreement opens new markets, particularly in East Asia, for the more than 200-year old British company
The new company will be called Chestertons Korea
Chestertons, one of the world's most-established and respected real estate agencies worldwide, has signed a franchise agreement with PAC, a real estate appraisal company focused on the commercial and professional services sectors in South Korea.
Originally established over 200 years ago in 1805, Chestertons is one of the foremost real estate firms in London with over 30 local offices and an international network that incorporates over 100 offices extending across 19 countries and five continents.
The acquisition adds value to the British company's existing international real estate business and opens new markets, particularly in Korea and its neighboring East Asian markets.
This is a big step in forging a major network for Chestertons across Asia," said Salah Mussa, Chairman of Chestertons. "PAC has built a reputation of professionalism and gained the respect of the industry while working with institutional investors, developers, public and private institutions, and financial firms in Korea."

"Through this partnership, we look forward to leveraging the expertise and reach of PAC to bring all of our clients the best opportunities in East Asia. Our combined experience in the international market and PAC's local commercial expertise will, undoubtedly, provide us with a competitive edge in this new market," he added.
Jong-Woong Shin, the current Chairman of PAC, will take up the same role in the newly-christened Chestertons Korea and will head up further expansion in the country.
Mr. Shin started his professional career over (30?) years ago and is a certified FRICS, CRE Appraiser, with a doctorate in Business Administration from Incheon University. His credentials include being the former Chairman of the Seoul Real Estate Forum, Chairman of the National Appraisal Association, and President of the Royal Institution of Chartered Surveyors – Korea.
South Korea has gained a significant reputation among savvy investors, particularly in the commercial sector where relatively high investment yields, undervalued prime office buildings, and low volatility have been commonplace in the past 5 years. Estimates say that foreign investors made up about half of commercial property transactions in 2016 – a $12 Billion industry that has continued to grow this financial year.
"Korea seemingly offers some of the highest yields in the region, particularly in comparison to other favored East-Asian economies such as Hong Kong, Tokyo, Singapore, and China," said Chestertons Director of International, Neville Page. "The market is also bolstered by a comprehensive ownership system that appeals to both private and institutional investors alike."

"This agreement gives Chestertons, and our clients, a foothold in this burgeoning market at a time when investors are clearly turning their eye towards the region. Just in the capital of Seoul alone, reports have stated that year-to-year transactions have jumped nearly 150%, buoyed by money from all sorts of institutional and private investors. This new and exciting chapter for Chestertons is great news for all of our stakeholders," said Nick Witty, Managing Director of Chestertons MENA.
Chestertons, whose one of its main hubs is based in Dubai in the UAE, is poised to tap into one of the world's most affluent regions to the benefit of this partnership, as Arab investors have poured in millions of dollars in prime real estate locations in cities like London, New York, Paris, and Lisbon.
"Our international teams will work together with Chestertons Korea to take full advantage of this new market. This allows us to provide even more higher levels of service to our valued clients and offer them alternatives to traditional investment destinations worldwide. With more resources than ever before, we can support our clients in fulfilling their objectives, maximising their returns, and adding value to their asset base," Witty added.
London was the most attractive market for Chestertons MENA investors in 2015 when the firm facilitated investments of AED265 million in the UK capital's real estate market, representing more than 70% of total sales of nearly AED 379 million.
Investors from Kuwait topped the GCC list, accounting for 21% of total London sales through Chestertons, followed by Saudi Arabia (17%), Qatar (10%), UAE (10%), and Bahrain (7%).